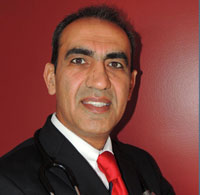 Zia Roshandel
M.D., F.A.C.C.
As a board certified physician in Internal Medicine, Cardiovascular Medicine, Echocardiography, and Nuclear Cardiology, I have seen the effects that obesity can have on cardiovascular health and the overall well being. Coronary artery disease is the number one killer in the United States and it develops over several decades. There are two groups of risk factors that lead to coronary artery disease. The first group is the non-modifiable risk factors such as genes, age and gender and the second group is the modifiable risk factors, such as diabetes mellitus, high blood pressure, high cholesterol, and smoking. Several of these modifiable, or changeable, risk factors begin with obesity. This is alarming because it is something we have the ability to change, yet 60% of population in United States is overweight or obese. For the first time in almost one century, the current generation is going to have a shorter life expectancy due to obesity and cardiovascular disease.
Therefore, it is crucial to focus on prevention of obesity and cardiovascular disease. To do so, I have integrated the Ideal Protein protocol into my cardiovascular practice, Blue Ridge Cardiovascular Associates, to help improve the overall well being, cardiac health, diabetes and obesity of my patients and the members of our community. While no diet is a vaccine against obesity, this protocol not only focuses on the initial weight loss, but also on maintenance of the new weight by educating the participant and giving them the tools required to make the necessary modifications in their life style and eating habits. After completion of the first phase, most of our dieters will come off of their high blood pressure, diabetes and high cholesterol medications, or at least see a reduction in the number of their medications for the above conditions. Several dieters also noticed significant improvement in back and knee pain after losing 30 pounds.
I am very pleased with the success this weight loss program has had in Culpeper. This program delivers measurable, repeatable, and predictable results and is suitable for the majority of the population. My goal is to educate, reduce cardiovascular risks, and give our community a tool to take control of their health and improve their quality of life.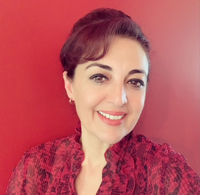 Sofia Roshandel
Ideal Weight Loss Clinic Coordinator and Weight Loss Coach
My name is Sofia Roshandel and I'm Ideal Protein coach at Ideal Weight loss of Culpeper since 2015. Before becoming a weight loss coach, I was always a big believer of healthy lifestyle, physical activity and realistic goal setting for maintenance of weight but also prevention of chronic disease, especially cardiovascular disease, such as heart disease, stroke, diabetes, high blood pressure, high cholesterol and musculoskeletal disease such as joint pain and back pain. My first exposure to ideal protein weight loss program was through my husband, Zia Roshandel, who is a cardiologist with primary focus on prevention cardiovascular disease. Becoming a coach felt natural and very fitting to my lifestyle and my mission to help others, especially those who have struggled most of their lives with obesity and failed multiple diets in the past. I was amazed by the reproducible results of ideal protein protocol in men and women of all age groups.
Additionally, the ideal protein protocol made sense because it targets the core weight problem of today's society which is carbohydrates. By reducing carbohydrate consumption while providing adequate amount of high-quality protein it promotes weight loss without losing significant body muscle, which is crucial as a calorie burning engine. It is a joy not only to see the weight loss progression of our dieters but more importantly its impact on their chronic disease. Although our dieters strictly follow the ideal protein protocol while they are in the weight loss phase but after they reach their target weight, I help them with healthy recipes and weight maintenance tips, which in my opinion is as important, if not even more important than the weight loss itself because the maintenance of the achieved weight is the second biggest challenge after losing the weight.
I have several hobbies including exercising, cooking, experimenting with new recipes and helping our dieters to keep them motivated and to teach them how to maintain their weight. Watching our dieters to succeed with their weight loss journey is an indescribable feeling and great motivation to help the next dieter.
Our medically developed weight loss protocol and smarter lifestyle choices education offers dieters what they really want…a structured program that can put an end to constant dieting.
Business Hours
Culpeper
Mon to Fri: By Appointment Only
Ideal Weight Loss of Culpeper is Authorized to Use the Ideal Protein Weight Loss Protocol and Products. The testimonials on this website are those of the individual that is identified, you should not necessarily expect to receive these results. Typical results vary from person to person and individual to individual when the Ideal Protein Weight Loss Protocol is followed properly. You should consult your physician or other health care professional before starting this or any other diet program to determine if it is right for your needs.
440 Southridge Parkway Culpeper, VA 22701 – Phone: 540-829-4374 Ext. 114 or 949-572-5792
Copyright © 2023  Ideal Protein All rights reserved.