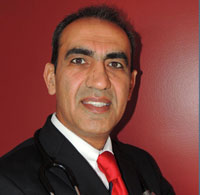 Zia Roshandel
M.D., F.A.C.C.
As a board certified physician in Internal Medicine, Cardiovascular Medicine, Echocardiography, and Nuclear Cardiology, I have seen the effects that obesity can have on cardiovascular health and the overall well being. Coronary artery disease is the number one killer in the United States and it develops over several decades. There are two groups of risk factors that lead to coronary artery disease. The first group is the non-modifiable risk factors such as genes, age and gender and the second group is the modifiable risk factors, such as diabetes mellitus, high blood pressure, high cholesterol, and smoking. Several of these modifiable, or changeable, risk factors begin with obesity. This is alarming because it is something we have the ability to change, yet 60% of population in United States is overweight or obese. For the first time in almost one century, the current generation is going to have a shorter life expectancy due to obesity and cardiovascular disease.
Therefore, it is crucial to focus on prevention of obesity and cardiovascular disease. To do so, I have integrated the Ideal Protein protocol into my cardiovascular practice, Blue Ridge Cardiovascular Associates, to help improve the overall well being, cardiac health, diabetes and obesity of my patients and the members of our community. While no diet is a vaccine against obesity, this protocol not only focuses on the initial weight loss, but also on maintenance of the new weight by educating the participant and giving them the tools required to make the necessary modifications in their life style and eating habits. After completion of the first phase, most of our dieters will come off of their high blood pressure, diabetes and high cholesterol medications, or at least see a reduction in the number of their medications for the above conditions. Several dieters also noticed significant improvement in back and knee pain after losing 30 pounds.
I am very pleased with the success this weight loss program has had in Culpeper and I have recently extended my services to Charlottesville. This program delivers measurable, repeatable, and predictable results and is suitable for the majority of the population. My goal is to educate, reduce cardiovascular risks, and give our community a tool to take control of their health and improve their quality of life.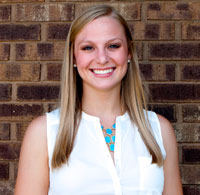 Katie Shanel
Ideal Weight Loss Clinic Coordinator and Weight Loss Coach
After being a gymnast for 15 years, I gained an interest in health and wellness. So much so, that I graduated from the University of Illinois with a Bachelor of Science in Human Nutrition. Upon my completion of my degree, I decided to take my passion for nutrition to another step and become a Certified Health Coach through the Institute of Integrative Nutrition. I love sharing my knowledge and passion for nutrition with others and I especially love helping people through their weight loss journey.
I recently moved to Charlottesville, Virginia in June 2014 from Chicago, Illinois where I was born and raised. Prior to moving to Virginia, I was an Ideal Protein Weight Loss Coach in Chicago for two years, so I am happy to be able to help a whole new group of people through their weight loss journey via the Ideal Protein protocol. When I am not working, I love cooking and baking new recipes, and taking advantage of Virginia's beautiful scenic trails for hiking.
Our medically developed weight loss protocol and smarter lifestyle choices education offers dieters what they really want…a structured program that can put an end to constant dieting.
Business Hours
Culpeper
Monday 8:00am-5:00pm
Wednesday 8:00am-5:00pm
Thursday 8:00am-12:00pm
Charlottesville
By Appointment Only
Dulles
By Appointment Only
Ideal Weight Loss of Culpeper, Charlottesville and Dulles is Authorized to Use the Ideal Protein Weight Loss Protocol and Products. The testimonials on this website are those of the individual that is identified, you should not necessarily expect to receive these results. Typical results vary from person to person and individual to individual when the Ideal Protein Weight Loss Protocol is followed properly. You should consult your physician or other health care professional before starting this or any other diet program to determine if it is right for your needs.
440 Southridge Parkway Culpeper, VA 22701 – Phone: 540-829-4374 Ext. 114 or 949-572-5792
Copyright © 2022  Ideal Protein All rights reserved.